The plate heat exchanger consists of a pack of corrugated metal plates with portholes for the passage of the two fluids between which heat transfer will take place. The plate pack is assembled between a fix frame plate and a movable pressure plate and compressed by tightening bolts. The plates are fitted with a gasket which seals the inter plate channel and directs the fluids into alternate channels. The number of plates is determined by the flow rate, physical properties of the fluids, pressure drop and temperature program. The plate corrugations promote fluid turbulence and support the plates against differential pressure. The frame plate and the pressure plate are suspended from an upper carrying bar and located by a lower guiding bar, both of which are fixed to a support column. Connections are located in the frame plate or, if either or both fluids make more than a single pass within the unit, in the frame and pressure plates.


LianJiu (Liaoning) Heat Transfer Technology Co.,Ltd is devoted to supply plate heat exchanger, heat exchanger plate, gasket, heat exchanger plate and gasket mold and other products which can be used in HVAC, power plant, petrochemical, food &pharmaceutical, marine and many other fields. We provide replacement of many brands including Alfa laval, Sondex, Tranter, APV, GEA and so on.
Members of Lianjiu are the specialists who have over 5 years` experience in the heat transfer sector and are holding the most advanced technology for the plate heat exchanger research, design and production.
We have independent research capability, first-class product development and design of the mold as well as heat exchanger design capabilities.
Our products are sold to all around the world, including Russia, United States, Canada, United Kingdom, Malaysia, India, Korea, etc., and well received by customers.
Our advantages:
1. Various types of products
2. One-year warranty.
3. Most competitive price
4. Lead time assurance
5. ODM & OEM available
6. Thoughtful after-sale service
7. Timely response
8. 7*24 online service
Our Advantage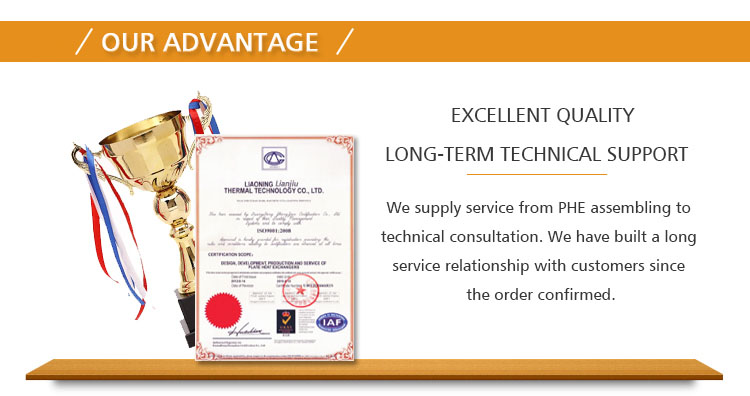 1.About Product:
We supply plate heat exchanger, heat exchanger plate and gasket as well as as the mold for plate and gasket with over 500 models.
2.About Market:
Europe 30%, Aisa 35%, South America 15%,North America 5%,Middle East15%.
3.About MOQ:
For plate heat exchanger, MOQ is 1 set;
For heat exchanger gasket, MOQ is 50 pcs.
For heat exchanger plate, MOQ is 50 pcs.